PART 2,
From Before

From the Office Pew of Rev. Ivan Stang

Background: Funway Plastico
Borders, Clips, Blips: Friday Jones
This illo: Nenslo
OH MY LORD GOD CHRIST ALMIGHTY!!!
Subgenius.com email accounts now available!!!
HOUR OF SLACK radio, new every week in RealAudio!! Astounding, EASY fidelity!

---
6-11-98
26 Days LEFT to X-Day! And you would not BELIEVE the crap that The Conspiracy threw at us this month! For one thing, we were TOSSED OFF OUR PREVIOUS WEB SERVER -- SUPPOSEDLY for "adult content". (You may have noticed that SubSITE was completely off the air during the crucial last week of May '98!) But I think we know the real reason they PINKED OUT... and that's why we're now spewing from the overheated, hard-working web servers at bluegravity.com. Things are still a bit wobbly here and there on the site; after all, we've had to flee from server to server like a floating crap game, three times in as many months! But that hasn't stopped us from preparing ONE FINAL MASSIVE MIGHTY "GOODBYE" UPLOAD OF THE LAST, GREATEST SUBGENIUS WORKS -- our farewell to the Earth Internet. We want to leave the Unsaved the most MADDENING, TAUNTING WEBSITE IMAGINABLE (assuming there's some vestige of the Net still working, and electricity in some places). Watch the front-end index pages and the X-Day 98 section in the next few days for this incredible last-minute spray of art, text, sound and video... and don't forget, you only have about 3 more weeks left in which to squander all your worldly goods on brand new worldly SUBGENIUS goods!

Meanwhile:
Some new Recent Devival Report sites from Ragin' Pope Angus XXIII:
CLEVELAND 1997 Devival
PORTLAND Devival Review
SEATTLE Devival Report
---
AND!! We've been preaching our leathery LUNGS out on the FINAL ARMAGEDDON TOUR -- COAST TO COAST BEFORE IT'S TOAST --After the triumphant Portland and Seattle devivals (I missed the SAMOAN Devival, DAMN IT!!) I immediately went to Cleveland for the sublime Einstein Secret Orchestra devivals and secret rituals, where we had the biggest turnout EVER in Ohio.
The above links lead only to mere 2-D photos; those devivals haven't been fully written up and holographized. But all the dirty details, a lot of skin, and even a bonus rabid anti-rock-jock-morning-drive-time-talk-radio UBER-HATE RANT are obsessively included in our NEW section:
THE FINAL, FINAL SUBGENIUS DEVIVAL in BOSTON
produced by IrRev. Friday Jones
NOT for KIDS
---
We recommend scanning alt.slack and alt.binaries.slack for REALLY fresh news, because there's always more going on there than we can keep up with on this end.
---
For an example of just how bloodthirsty a SubGenius can get, see:
The Church is not responsible for this website, and we offer this link strictly as an example of what we consider TOO EXTREME.
---
MIND-CRUSHINGLY VAST ART MINES TUNNEL 12 DUG!!!
WE CRAPPED, and you will TOO! You can either go the the nice safe TUNNEL #12 'PAGE,' or you can be thrown DIRECTLY INTO THE PIT FULL OF 1500 PICTURES, MOVIES and DISEASES!
This includes EVERYTHING UNTHINKABLY LUSCIOUS from the artists of alt.binaries.slack from Nov. '97 to March '98.
---
Other RECENT DEVIVAL 'squirrel' shots:
SAMOAN Devival '98 -- Photos by Dr. Legume
AUSTIN -- The Last New Year Devival -- glimpses from the latest Fringeware/SubGenius Gala
X-DAY DRILL '97 -- Popess Lilith's digipics
---
---
HOURS OF SLACKS REPLENISHED!!!
Being on our own COMMERCIAL $erver is allowing us ever-greater freedom as the final weeks of Earth's existence wind down. Now that we are stabilizing this gigantic site on its new home planet, we'll be able to finish some long-awaited projects. An interactive Mutants Dating Service and Trading Post is being tested.

---
NEW FUNHOUSE
Some NEW proggies/games, and some oldies that now FINALLY WORK RIGHT!
And here's some Xmas Cheer you might've missed.
---
ART MINES SWOLLEN BEYOND ALL SANE UNDERSTANDING!! Over 1,400 new pieces of computer graphics and photos have been excavated in the Art Mines -- 6 months' worth of alt.binaries.slack, including a couple of dozen new GIF-animations and mini-movies, plus TWO count 'em TWO WHOLE SUBGENIUS TRADING CARD SETS by Atom Funway! We've changed the way we display the art links, too -- NO FRILLS.
Rev. Noah Stewart contributes illustrated articles delineating the insidious perfidy of those Conspiracy blockbuster movies, INDEPENDENCE DAY and MEN IN BLACK.
The great blasphemer Robert Carr has a new Virtual God machine which creates all-new TOP TEN COMMANDMENTS while-u-wait!
---
We had an extremely successful Cleveland Devival (and accompanying PROTEST!), and you can hear that on HOUR OF SLACKs 604-605-606. We have PICS from the Austin devival in... in... in somewhere.
I, Stang have been working hard on "art" for the Steve Jackson SubGenius-INWO game -- check out the UNEMBELLISHED TECHNICAL ESSAY with detailed pictures.
YOU ARE INVITED. Read DR. LEGUME'S PERSONAL INVITATION TO YOU TO ATTEND THE OFFICIAL X-DAY GATHERING 7-5-98! And his latest END TIMES MESSAGE.
---
PRAISE REV. EYRE REND! -- The EARS OF DOBBS soundloads and HOUR OF SLACK streamin' sections have been TOTALLY REVISED and JACKED UP TO 'TEN'! -- featuring the staggeringly beautiful new architectural marvel, the YETINSYN AUDITORIUM!
NOTE: The TrueSpeech files are indeed broken. We are trying to fix the problem. The online Short Duration Marriage is once again emailing certificates, though.
---
INTERESTING NEWS about the troublesome SubGenius newsgroup, alt.slack. Apparently, it's the 25th most-lurked newsgroup on the Internet (umm, well, Zippo anyway).

PRAISE DOBBS! Revised Websites of the Gods! Our new web links editor, the mysterious Rev. KALE WRAITH, has just begun the massive rennovations required, but you'll notice huge differences already -- like, THE LINKS ALL WORK! PRAISE REV. KALE!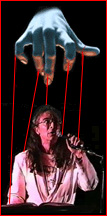 I, Stang am working night and day on the deadline SUBGENIUS-ILLUMINATI NEW WORLD ORDER card set we're doing with Steve Jackson games. I'll post some sample art from it if I get a breather. I mean, besides the FORCED ones from this Iron Lung full of Church Air that they keep me in.
OFFICIAL CHURCH UPDATE FROM JESUS, 8-14-0.bx
Stay tuned for hundreds of new pages of SubGenius stories, rants and articles, as well as over 500 pieces of art. We're only waiting on the delegatees. If you want to see more text herein, culled and shucked from the SubGenius newsgroups, then HELP!!

Rev. Modemac did, and that's why we can at LEAST offer this report from The Shining Path of Least Resistance's MISSIONARY TRIP TO CAMBODIA!! IrRev. Friday Jones did, and that's why she has PRACTICALLY ILLUSTRATED THIS ENTIRE WEBSITE by creating and emailing each flashy button or crazy border or sick GIFMovie BEFORE I EVEN KNOW IT'S NEEDED!! PRAISE FRIDAY; any art you see on SubSITE that's NOT credited, IS BY HER.
I upchucked the last 6 months' worth of my "Internet Diary" (newsy posts to alt.slack), and 3D artful doodlings, to prove that I haven't been sitting on my shapely ass (seen in Slide 3) all this time.

WHOOO DOGGIES!! WE SURVIVED THE X-DAY DRILL '97 and we herein present the all-naked pictures, blasphemous RealAudio sound, and FIRST PERSON ACCOUNTS, to PROVE that this utterly ASTOUNDING week-long SubGenius celebration/ritual, YES, ACTUALLY HAPPENED! NEW (8-15) ADDITION: DR. LEGUME'S REPORT.
The Drill was a great success, both financially for the Church and in terms of Slack and orgozmonic radiation generated. We had thrice last year's attendance, thrice last year's 'FROP INTAKE CAPACITY and thrice last year's HATE for the PINKS. We learned a lot and are much better prepared for X-Day proper. HOW READY ARE YOU?? You'll shudder and ooze as you vicariously experience this x-rated gauntlet of Slack Abuse. And we've gone out of our way this time to keep all-text, all-pictures (including major additions to the SUBGENIUS PORTRAITS gallery) and all-sound as SEPARATE OPTIONS, so that low-tech voyeurs can pick and choose according to their cheapness of equipment.
Don't expect us to make a HABIT of it, however.
ADDED 7-25: NEW PICS, DR. LEGUME'S REPORT, and HOUR OF SLACK RealAudio rendition of the Drill, editted
---
REALAUDIO FAQS
of The Church of the SubGenius
(Requires RealAudio3.0 player)
THE SUBGENIUS/MTV COMMERCIAL
CHRIST'S TEACHINGS ON "BOB"
Actual Recording in RealAudio3.0 of Jesus Christ explaining and selling the Church, in a patient, reasonable sounding monotone.

St. Jayne re-rendered by Rev. Susie the Floozy

---
More Crazy Audio! SubSITE/Wandarer presents The TrueSpeech webstash of WFMU, WILDEST COLLEGE RADIO OF PLANET EARTH!!
Tortured Church Superstar NENSLO's new NENSLETIC WEBSITE!!
http://www.teleport.com/~nenslo
---
Jesus' Official Update, June 5
4-26-97 Stang Report, Griping, Misc. Drill Musings

---
Forgotten URL Finally Located!
THE DAMN TRUTH
SubGenius Comix, Variety E-Zine, First Issue!
Featuring the Artists and Writers of alt.slack and alt.binaries.slack
NOTE -- This is not a SubGenius Foundation production, although it resides on our website. We are irresponsible for its content. FUTURE ISSUES of this zine will be UNDER NEW MANAGEMENT by Dr. Dynasoar.
---
SINSATIONAL REPORT with SICK PHOTOS: THE 1997 ATLANTA DEVIVAL
A SPECIAL GOSSIP-and-PHOTO-FILLED REPORT from IrRev. Friday Jones.
---
A Report/Recording of a small Devival at Rutgers University in May '97, in RealAudio, courtesy of Rev.Eyre Rend:
PART 1 (mostly preliminary commentary from misc. SubGenii) -- http://sunsite.unc.edu/pub/electronic-publications/subgenius/soundz/Fightin'_Fifth/The_Rutgers_Horror_Picture_Devival_1.ram
Part 2 (main Stang rant continued): http://www.subgenius.com/soundz/Fightin'_Fifth/The_Rutgers_Horror_Picture_Devival_2.ram
---
BIRTH ANNOUNCEMENT -- THE ANTICHRIST
---
A website just isn't really part of the Internet, as the Conspiracy defines it, unless it has child porn, the Unabomber manifesto and How to Build An Atomic Bomb. We really want to be official. We already have the Unabomber Manifesto, and so now we also offer
HOW TO BUILD AN ATOMIC BOMB
and
LITTLE LISA'S WET PUSSY.
OFFICIAL X-DAY CHURCH PRESS RELEASE. Copy this. Send it to your local newspaper, radio stations, magazines. Then send it to them again and again.
General All Purpose Invitation to The X-Day Drill
DISCORDIANS: COME TO THE X-DAY DRILL!
---
5-7 StangReport / HOUR OF SLACK 578 log
JESUS's Official Church Update 4/22/97
"PARANOIA" Magazine Blasts "BOB"
J.R"Bob"Dobbs Described in Newsweek


HEAVEN'S GATE SPECIAL HOURS OF SLACK RADIO SHOWS (episodes 573,574) NOW AVAILABLE -- IN REALAUDIO, TRUESPEECH!
HEAVEN'S GATE CULT SUICIDE -- THE HIGHER SOURCE TRUTH ABOUT THE HALE-BOPP COMET / SUBGENIUS CONNECTION
You RUINED It! -- an accusation.
Rev. Jesus Christ's Stark Fist Ad Rates/Deadlines Update 1/9/97
CHURCH UPDATE NEWS FROM JESUS -- 4-3-97
March 26: Mark Frauenfelder of WIRED hilariously covers the war between the SubGenius artists of alt.binaries.slack and the world's dumbest spammer! CHURCH SALES DOUBLE OVERNIGHT!
THE WIRED ARTICLE
STANGREPORT 3-26-97 in response.
April 5 -- RE-RE-upspunked ART MINES TUNNEL 10, mostly with new Poindexter art, and also added about 50 new retina-sucking pieces to the NEW FERNANDINANDE GALLERY.
So scrop yourself a "boober"-sized 'fropstick, strain a groovy platter onto your noisebox, scour your corneas, Windex your screen, pipecleaner your sinuses, then sit back and grok the rather impressive computer graphic work being done by these PERVERTED FUCKING FREAKS!!!
AWFUL SECRETS OF THE HALE-BOPP COMET!!
New BASH "BOB" SHOCKWAVE GAME!
"Slug Bob in the Nose" or "Launch Bob's Bleeding Head"
Developed by Kaizen Works of Celebrity Slugfest. Spaceboy mailed them a Dobbshead and WHAMO! an instant Dobbs headlauncher. You have to kick his ass, first.
Hour of Slack on WCSB INTERNET RADIO in new Audioactive format sounds GREAT!
2-6-97: MOUNTAINS OF NEW RANTS, TALES AND ARTICLES HAVE BEEN ADDED TO DAMN NEAR EVERY SECTION OF THE ONLINE FIST -- INCLUDING SCIENCE -- KOOK-LOVE -- and even KOOK-HATE!!
HUGE JANUARY NEWS REPORT!!! -- too vast for this page! Includes: New IRC Devival channel! X-Day Drill '97! Hour of Slack on NEW, GOOD Net Radio format! March Devivals! SubGenius Keychains, Clocks! New book, new art, new religion, old PalmerHead! The ARTICLES OF TRUTH stash has been completely revised by Rev. Zachary Carleton, and there's a SAMPLE PAGE OF REVELATION X, experimentally webberized by same.
---
STANG LOSES MIND -- REVEALS SECRETS OF SUBSITE!! (Stang Report 1-30-97 -- X-DAY DRILL news & SubSITE STATS)
NEW PROGRAMMING LANGUAGE! - SGML 1.0
FINALLY REVEALED: SubG FAQ #8: Can I, A SubGenius Minister, Perform LEGAL MARRIAGES?
SUBSITE EXPLODES!! KEY TO MAGIC OPENING PAGE FORMULA! (1-27-1BX HQ STANKREPORT)
Rev. Jesus Christ's Stark Fist Ad Rates/Deadlines Update 1/9/97
Rev. Jesus Christ's Official ChurchUpdate 12/17/96
STARK FIST Advertising Rates
Don't laugh. CHEAP -- 6,000 potential customers for high weirdness.
BIZARRE NEW MULTIMEDIA SUBGENIUS SPIN-OFF PROJECTS!!!
CLAN OF THE SUBGENIUS Quake web!
Gallery O Slack in Alpha World!
MORE TERRIFYING NEWS!!
THE LANDING OF THE HEALED TAIL OF ARNOLD PALMER!
SubSITE on TV
A Song About The Sacred Scribe
STUPID NEW SECTION!
SUBGENIUS FOUNDATION INTER-OFFICE MEMOS
DECEMBER 24: A TOTAL REVAMPING OF THE OLD NEW ART PAGES, AND HUNDREDS OF NEW PIECES IN THE NEW NEW ART PAGES. I, Stang, am personally excited by a mini-breakthrough that allows us to display our religious visions (created in the Bryce program) as 3D swivel-vision QuickTimeVR movies... which you can download or run "live" in Netscape 3 if you have the QuickTime plug-in.
On Nov. 32, we corrected glitches in everything detailed below, and added a few knickknacks too. Everything should work FINE now.
We added new PORTRAITS of your fellow SubGenii -- EVEN FEMALES!
---
Nov. 8:
New TALES of "Bob" that will scour your bathroom tiles CLEAN CLEAN CLEAN.
---
"JUST IN":
The hundreds of pages of text that were censored from REVELATION X (mainly due to space limitations), which used to be presented here as one huge 198k text document, have been broken up into 16 E-Z-2-navigate sections.
A couple of completely new sections were added 10-10-2BX:
THE SCOOP
A weekly political hate column by Rev. Bob Harris (appears in many city newsweeklies).
FIRESIGNAL
An irregular newsletter about The Firesign Theater. Most of you snot-nosed brats probably never even heard of them, but their so-called 'comedy albums' from the late '60s and early '70s probably kept some of us older SubGenii from suicide. Right up there with Zappa and Zap Comix.
This could be important:
MIRACLE VISAGE OF "BOB" SEEN IN RANDOM ALT.SLACK POST TEXT!
Our Christian brethren will need to know the latest: NUMBERS OF THE BEAST
Tuna Noodle Surprise
I haven't tried this yet.
LITERALLY HUNDREDS of articles and rants, mostly culled from alt.slack, have now found a permanent if still totally disorganized home in two new displays in the Hall of Answers:
ARTICLES 2
RANTS 2
ALERT! BONOBOS n "BOB" on AOL!
Regarding the closest thing to a SubGenius section that AOL is likely to have.
BOB IS COMING...
True News from a small Canadian town. You thought "The Bridge Named Bob" was bad? You thought the "Yield for Bob" ads were bad? Proof that the Con will go to any lengths to water down Dobbs' sweet Name.
"Bob" Sighting -- Phlactagons
We got this in the email. Could be important.
HOW TO GET THE SUBGENIUS DIGEST 2 DIFFERENT WAYS
This listserve is much calmer, snobbier and less crowded than alt.slack, and they'd like to keep it that way.
---
Goblin Magazine Homepage
Look for the interviews with Paul Mavrides, Ivan Stang, Frank Black in their new issue.
If their line is tied up, we have an unillustrated version of it here and in
Stang-Goblin Interview Pt. 2
A LARGE STASH OF GREAT GREAT TEXT PIECES THAT WE ALMOST FORGOT ABOUT!
This contains some WILD "Best of alt.slack '95" that was stashed here long ago but never properly linked in. Well worth perusing, especially Dr. Dynasor's Mystery Disk.
Some randomly-grabbed articles and amusements from alt.slack:

How Normals Fuck
Subject: Why Beer is better then me.
Hundreds of Jesuses scurry out when my kitchen lights go off, their holy brown carapaces glinting in the streetlamplight...
Mixing Church Air and Frop
SubSITE Reviewed in The Net
CITIZENS OF SLACK: THE REVOLUTION WILL CREMATE YOU!
Jim Hogshire on Bob Black

sexhurt

DOBBS GETS ME FIRED
Rev. Testa's Terrifying Church-Related Encounter with The Secret Service

(The above were grabbed from alt.slack by I, Stang and text-editted for webberizing by Rev. Nickie.)

Incidentally -- don't be discouraged if alt.slack seems utterly chaotic to you at first. It IS utterly chaotic, and I have no idea how anybody finds time to read it all. But amidst all the trash and detritus is a lot of excellent writing and truly bizarre educational opportunities. Most of the interior of this website is a sort of alt.slack "best of" -- but the text mass hasn't been updated in months, and we're still looking for a way to somehow condense and categorize it for display here on an ongoing basis. We've discovered that that's practically a full time job.

A newsgroup is a very different animal from a website. In the case of alt.slack, it's like a big "family," with all the attendant fights, brawls and inside jokes. As you lurk there you'll start to identify the "regulars," and sort out those whose posts you like to read and which ones you can generally skip over. While this website is ruled with iron hand and velvet glove by yours truly, and will probably eventually go COMMERCIAL, alt.slack is governed only at the whim of J. R. "Bob" Dobbs himself, and is certainly more democratic because of that.

Just warning you ahead of time...

Stang on AOL CENTER STAGE 5/5/96

And if you really want to DELVE into the dark past, see Rev. Stang's Internet Diary.